CICCIO Europan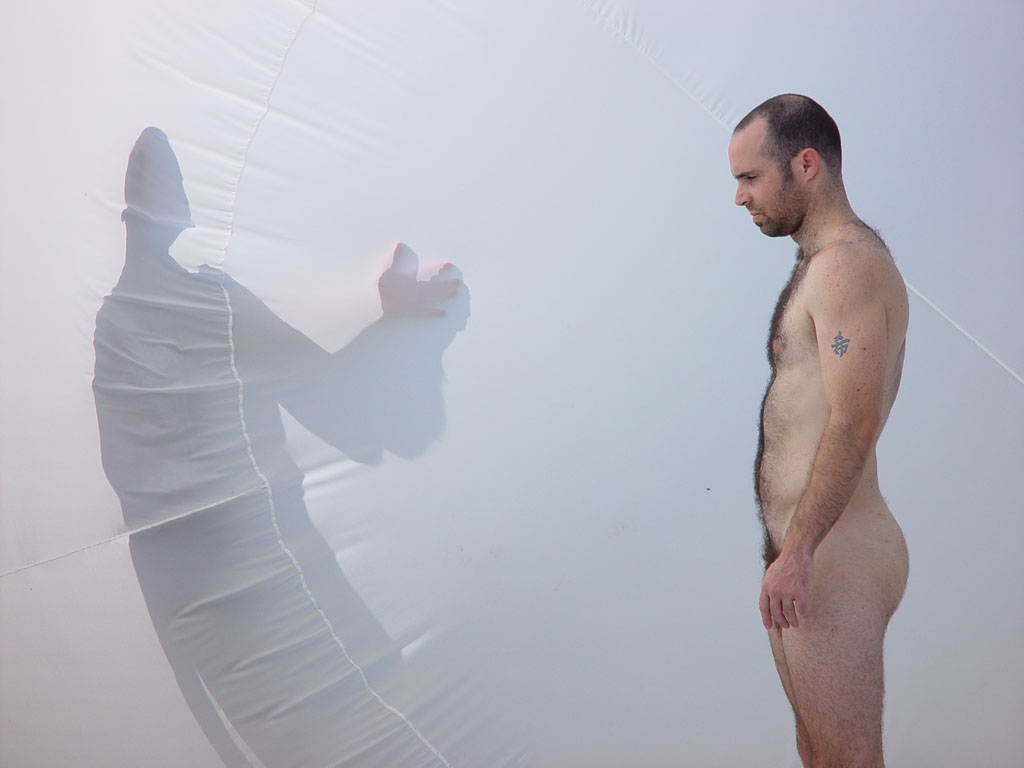 Ciccio: Couriosly Inflated Computer Controlled Interative Object
Entry for Europan 7 (Pescara)
2003
This project has been submitted as entry at the Europan 7 competition in June 2003 by the CICCIO Group -Walter Aprile, Dario Buzzini, Line Ulrike Christiansenn, Karmen Franinovic, Eyal Fried, Daniele Mancini, Stefano Mirti– a group of students and professors dealing with the Interaction Design Institute Ivrea. Since that time, they have been accumulating numbers of experiences and experiments around the CICCIO, the Curiously Inflated Computer Controlled Interactive Object, whose the projects shown here, represents the very first prototype.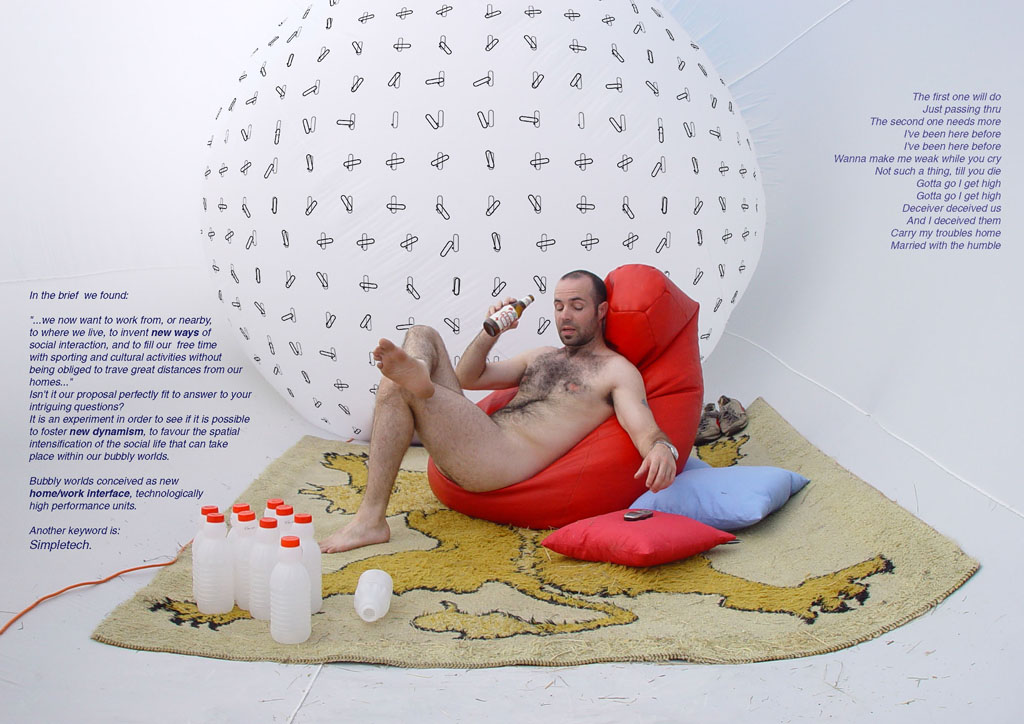 The case-study area in Pescara is a classical example of urban sprawl. A long accumulation (without much logic), a variety of disparate intervention without much though for urban ecology. We can't fix it the overall mess, but we can suggest an idea of possible conceptual re-organization of the overall. In this strategic plot of disused and underused land, we add a very light layer of possibilities. Inflatable ones. We are working on the historical principles of town planning and traditional urban composition. The relevant thing is that upon our understanding, out of the XXth? century we consider our masters people like Constant, we cried when we read about New Babylon, Superstudio, Archigram and the design metaphors by Ettore Sottsass. Our mental (and physical) landscape enable mobility, while offering urban coherence and environmental quality (liberating and integrating natural space). With an incredibly simple network grid we are able to imagine a rational management of natural resources (water, energy). In terms of spatial-temporal strategy, a system like ours, works on a step-by-step process. Experimental prototypes, temporary events, camping like situations, all the way to the housing frame.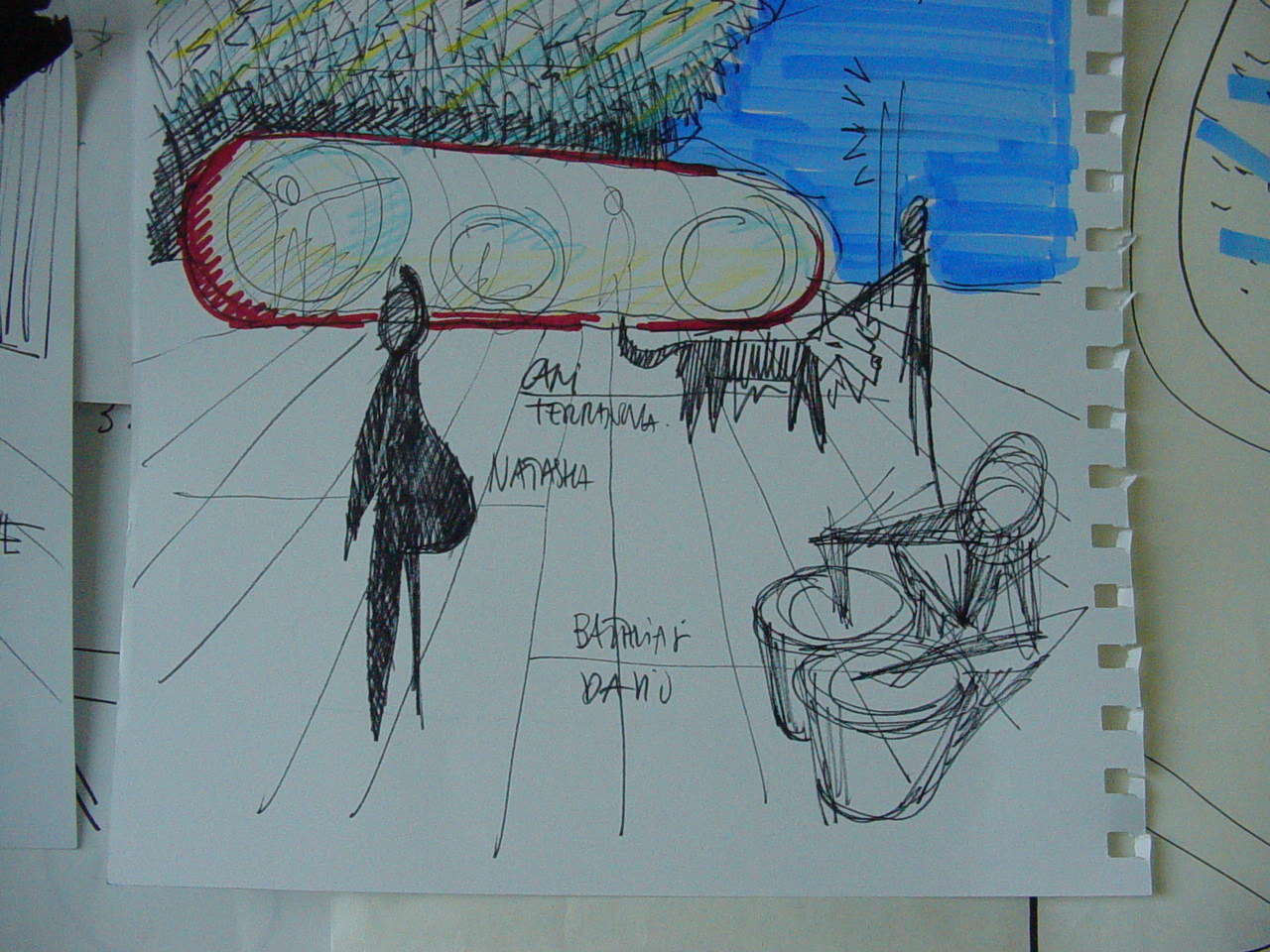 no images were found
In our proposal we define a new concept of River Park, using our inflatable network throughout the space. The waste is managed in an indirect way (the bubble network overlap on the different parts, without modifying them directly). The river park gets the network support (antenna + water & electricity box). Then, upon necessities, desires, events, the bubble-city can freely grow. The buildings in the area aren't restored or demolished, simply kept as they are, in order to become the perfect environment for our new world. With the same system, could be located the requested activities (the music town, the botanic garden, the kennels park). In few words: a "house in the park", with different typologies of inhabitants.
no images were found
Link to Arch'It project presentation
Link to the CICCIO Project website (not more mantained)
[flashvideo file=http://www.youtube.com/watch?v=uYRM7nX8M1I image=http://unpacked.files.wordpress.com/2010/07/12.jpg /]
Baustelle's "Arriva lo Ye Ye" videclip 2004
Francesco Bianconi came to Ivrea to visit us and see our CICCIO. We've worked togheter a couple of days to prepare the set and shoot very nice footages